There may be certain situations when you'll need to find your iPhone's IP address. Below is the steps on to find it.

1. From the home screen, tap Settings.

2. Tap Wi-Fi. The screen shown below appears your Wifi connection list.





3. Locate the connected Wi-Fi network that you wish to know the IP, and then tap the blue arrow next to the network name. The window shown below appears.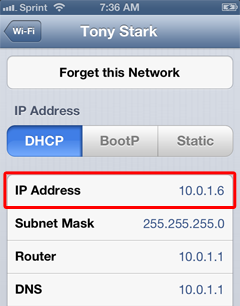 4. Your iPhone's current IP address for the selected Wi-Fi network is displayed at the top of the window, as shown above.